Strengthening environmental laws, enforcement and public participation


Supporting economic activities that foster environmental conservation

Environmental Affairs Council


Preserving biodiversity and protecting plant, wildlife and habitats

Improving private sector environmental performance and practices
WELCOME TO THE CAFTA-DR ENVIRONMENTAL COOPERATION PROGRAM
Our program began when five Central American countries (Costa Rica, El Salvador, Guatemala, Honduras and Nicaragua), the Dominican Republic and the United States entered into the Dominican Republic-Central America-United States Free Trade Agreement (CAFTA-DR) and the Environmental Cooperation Agreement (ECA). Under these agreements the countries cooperate in order to protect, conserve and improve the environment to advance their goal of sustainable development for the benefit of present and future generations.
Environmental protection involves the joint efforts of government and civil society, including non-governmental organizations, the private sector and the general public. All of these sectors are involved in the Environmental Cooperation Program and concentrate on four themes:
We invite you to explore our website! To learn how the Environmental Cooperation Program originated and developed visit background, and to learn more about what we do go to themes and activities. To understand who is involved in the program and where we work please visit the people and countries pages. For informative details about the program go to the information profiles.
Seventh Evaluation Report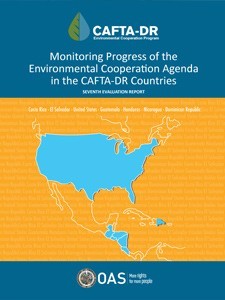 2017 – Monitoring Progress of the Environmental Cooperation Agenda in the CAFTA-DR Countries.